BirdWeb: Seattle Audubon's Guide to the Birds of Washington State
Bird of the Week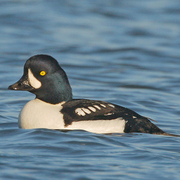 Want to catch a glimpse of the distinctive iridescent purple head contrasted by a white crescent shaped eye patch of the male Barrow's Goldeneye? Or the head pumping, wing flapping winter courting behavior as this handsome guy works to find a mate?
Birding Site of the Week

No other place in Washington feels more like the Canadian Rockies than Salmo Mountain in the extreme northeastern corner of the state. The Engelmann spruce and subalpine fir forest offers opportunities to find Spruce Grouse, American Three-toed Woodpeckers, and Boreal Chickadees. Salmo Mountain may be the best spot in the state to find Boreal Owls and White-winged Crossbills.
Get Involved with SAS

Seattle Audubon has numerous resources available to you.